For three years some new converts to the Orthodox Christian faith traveled from their homes in Telfair County, Georgia to St. Innocent Orthodox Church in Macon to worship with other Orthodox Christians.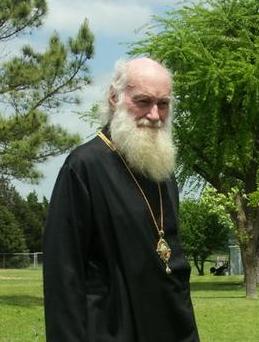 His Eminence Archbishop Dmitri. Memory Eternal!
In December 2000, Archbishop Dmitri allowed us to start our own mission station in Helena, Georgia. He gave us permission to use Saints Constantine and Helen as our Patron Saints and name our mission after them. Hieromonk Innokenty Chmerko came down from Macon once a month on a Saturday to serve Divine Liturgy for us. We met in what used to be the office of a heavy equipment dealership in Helena. Here is a picture of our old sign.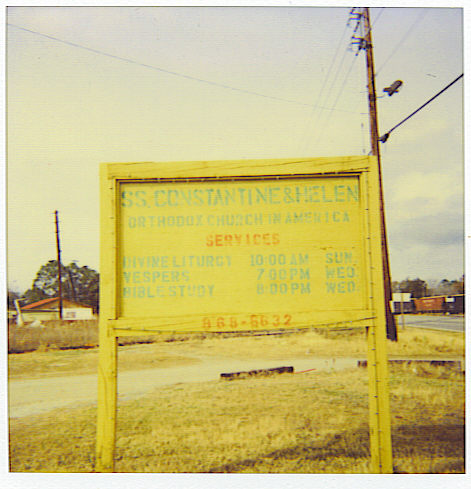 Our Old Sign
On Sundays we did the Typica service and on Wednesday nights we had Vespers and a Bible study. The Kehayes — an Orthodox couple who had moved to a nearby town from Seattle, Washington — helped us with our Bible study and our singing. In October 2001, Father Ted Pisarchuk, the director of missions for our diocese, visited our mission and served the Divine Liturgy. In the Autumn of 2001, we got a choir director who knows a lot about music — Michael Dykes. On January 6, 2002, Father Deacon Athanasious Hilton started coming down twice a month and bringing us the Pre-Sanctified Gifts (the Eucharist) from St. John the Wonder-worker Orthodox Church in Atlanta. This was really great! We got communion twice a month and on a Sunday. Since Deacon Athanasious was not a priest, he could not serve the Divine Liturgy, but he could do the Typica service with litanies and serve us the Eucharist. Here to the right is a picture of Father Deacon Athanasious.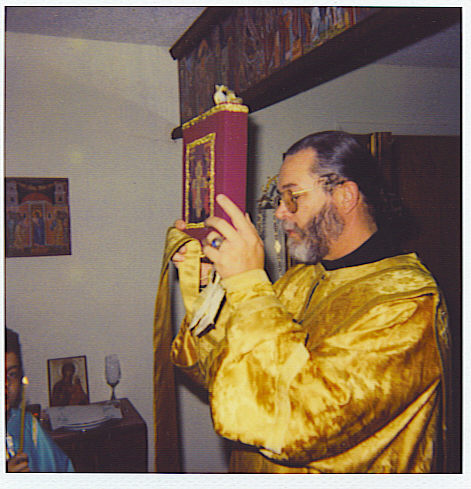 Deacon Athanasious Hilton comes out of the Royal Doors to do the Gospel reading.
On February 3, 2002, at St. Mary of Egypt Orthodox Church in Norcross, Georgia, Archbishop Dmitri tonsured Steve Cravey to be a reader. Father Peter Smith also prayed the prayer of catechumens over Lida Kniffen on this day and she became our first catechumen. Here below is a picture of Reader Stephen (the man wearing black) going to the Chalice to take Communion.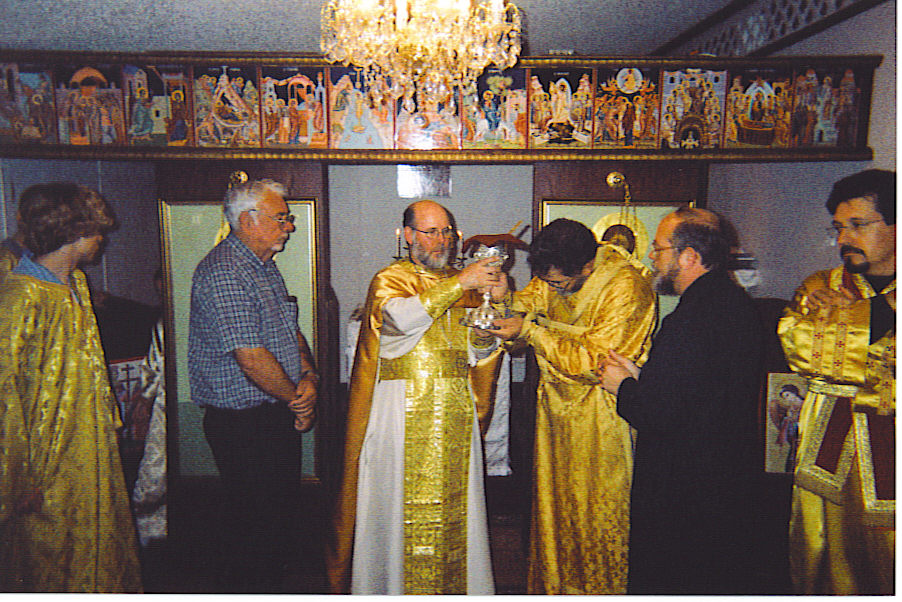 Reader Stephen Cravey goes to the Chalice to take communion. Fr. James Bohlman holds the Chalice. Deacon Athanasious stands next to the priest with his hand under the Chalice. Subdeacon Vassily Kocher stands behind Reader Stephen with his arms crossed. Brandon Cravey is the young man wearing gold. Ken Cravey is the layman standing next to the priest.


In the Spring of 2002, Father James Bohlman started coming once a month on Saturday from St. Mary Magdalene Orthodox Church in Rincon, Georgia to serve Divine Liturgy for us. He usually brought other members of his parish with him.
Later, we received another catechumen into our church, Nicholas Goucher. Nick was chrismated on February 26, 2005. He is the first person to be chrismated by an Orthodox priest in Telfair County, Georgia.
On Saturday, June 11, 2005 we began worshipping in our new church. Father James Bohlman went through the church with holy water, incense, and oil to dedicate the new building to be used for the worship of the one true God — Father, Son, and Holy Spirit.
On October 8, 2005, Father James Bohlman baptized Kaleb Andrews. He is the first person to be baptized in our church.
Since then, we have had three weddings, another infant baptism, and the reception of three more catechumens into the Church — two by the rite of Chrismation and the other by Baptism and Chrismation. We have also had one funeral for one of our members. Ephrem passed away in October 2016. Memory eternal! We have also received into our church some new members who live in nearby Fitzgerald, Georgia and another new member from Cochran, Georgia. We gained a new catechumen on July 1, 2017. We are prepared to provide a house near the church for a future full-time priest.
On August 18, 2014, His Eminence, Archbishop Nikon, granted us mission status.