Our church is located next to the Georgia State Patrol Station at 333 8th Street in McRae-Helena, Georgia — a town in South Central Georgia about 80 miles southeast of Macon.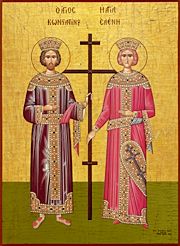 Orthodoxy - Proclaiming the Apostolic Faith since 29 A.D.
Schedule of Services




Matins 11:00 A.M. Sunday, October 22, & 29, 2017

Twice a month, on a Saturday, Father James Bohlman usually visits our mission and serves the Divine Liturgy. Father Theophan Buck will be coming on the second Saturday of each month. We are scheduled to have Divine Liturgy on the following dates: October 14, 2017. Divine Liturgy begins at 11:00 A.M. A meal will be served in the fellowship hall after the services. Everyone is welcome!



Mission Contacts


Sue Cravey, Contact Person
Home: 229-868-6632
Cellphone: 229-315-9033

Steve Cravey, Reader
Home: 229-868-7571

Church e-mail address: helenamission@yahoo.com



Orthodox Links
Orthodox Church in America
Diocese of the South
Orthodoxy in America
Orthodox Wiki
Saint Mary of Egypt Orthodox Church
St. John the Wonderworker Orthodox Church
St. Basil the Great Orthodox Church
Sts. Constantine and Helen Orthodox Church
(Romanian Episcopate; not us, this is in Lilburn, GA.)
Holy Resurrection Orthodox Mission
Saint Timothy Orthodox Church
Saint Mary Magdalene Orthodox Church
Saint Innocent Orthodox Church




Back to the Top